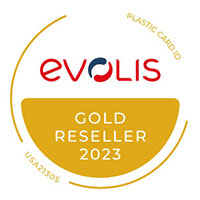 Includes touch-screen LCD Display, MAG ISO Dual HICO/LOCO 3-Track Magnetic Stripe Encoder, USB & Ethernet, With CardPresso XXS Software License.
Printing
Single-sided
Double-sided
Encoding
Magnetic stripesSmart contactSmart contactless
Card lifespan
1 to 3 years
Number of cards per year
More than 30 000
A high-performance card printer, to create your own double-sided cards with an appropriate level of security. Includes USB & Ethernet, with Cardpresso XXS Software License.
No Need To Choose Between Quantity & Quality.
Primacy 2 gives you both: an output capacity suitable for medium to large runs and high quality printing.