Adhesive Backed Plastic Cards
Thin White Blank Adhesive Plastic Cards feature a peel-off backing that reveals an adhesive so the card can be applied to other materials, including proximity cards – works with card printers that can print on CR79 sized plastic cards.
Blank White PVC Card
Glossy Photo-Graphics Grade
CR79 Size – Slightly Smaller than a Standard Credit Card
Available in 2 options:
10 mil card with Mylar backing (recommended by most card printer manufacturers)
10 mil card with Paper backing
The CR79 Adhesive PVC ID card is perfect for a variety of single-sided identification applications. Slightly smaller than a credit card (and the credit card-sized CR80 PVC card), the CR79 Adhesive card is commonly applied to Clamshell proximity cards as it fits perfectly within its borders.
Measured after the adhesive paper is peeled, the CR79 Adhesive PVC card comes in 10 mil thickness. When deciding if this card is right for your operation, consider your printer's specifications. It must support the CR79 PVC card size and handle cards that are 16 mil to 30 mil in thickness to accommodate the adhesive paper backings.
Our Plastic Card Team is available to answer your questions!
Call Today! 844.567.5777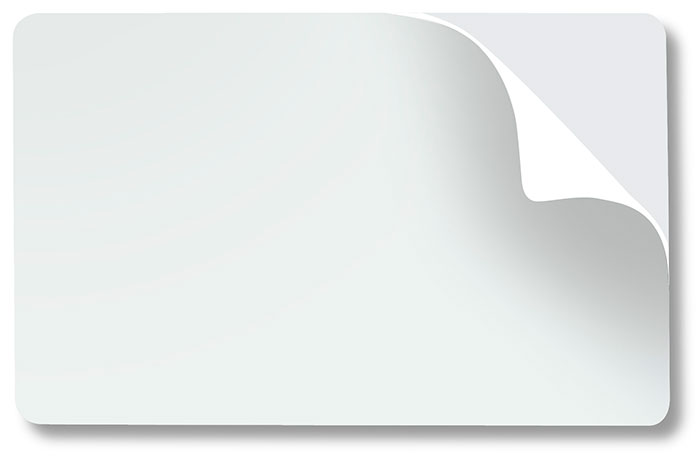 Adhesive Backed Card Pricing
Pricing is based on quantity 500-25,000 (for any card thickness)
$89.96 for each box of 500 (Paper Liner)
$164.00 for each box of 500 (Mylar Liner)
844.567.5777
Please allow 10-12 business days lead time to ship cards.
Have questions? We can help…
Please fill out the contact form or call the number below. Our experienced professionals will be happy to assist you.