Quality magnetic stripe cards at wholesale prices.
HiCo cards are common in applications where a longer card life is required and where cards are swiped often (several times per week).
The LoCo magnetic stripe cards will be used in low security applications, e.g. Loyalty, Membership and Retail, etc. The typical life of LoCo stripes is 1 year.
Magstripe & Encoding Guidelines
* The coercivity of this tape tends to be 300. HiCo tape can range from 600 coercivity to 4,000, although the most common is 2,750.
Typically each card is given a unique numerical code. This number is encoded onto the magnetic stripe and printed (so it can be read by a human if the mag stripe isn't working). Leave space in the artwork so we can print the number. In order to get the correct data to encode on your magnetic stripe, you must contact your POS System Provider and request this information.
Tell us how many digits and we will take care of the rest.
Random & Sequential Numbering: (We require an Excel file with all the random data)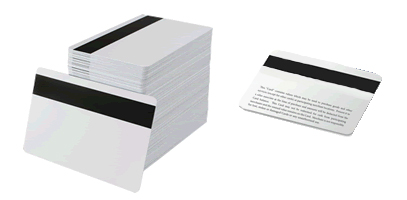 HiCo & LoCo Card Specifications
Color: White
Magstripe: 1/2 or 3/16"
Dimensions (wxh): 85.6 x 54mm
Material: PVC plastic, 30 mil
Graphic: The image must be ?" distance clear of the stripe
CR80 Cards have either low (LoCo) or high (HiCo) coercivity*