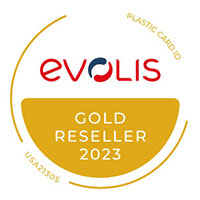 A high-performance card printer, to create your own cards with an appropriate level of security. Includes USB & Ethernet, with Cardpresso XXS Software License.
No Need To Choose Between Quantity & Quality.
Primacy 2 gives you both: an output capacity suitable for medium to large runs and high quality printing.
Its printing speed of up to 280 cards per hour, combined with its 100- or 200-card feeder, are the two major assets of the Primacy 2 that allow it to reach a high level of productivity and autonomy. Alongside this, its high resolution printing mode coupled with its colorimetric profile as close to real-life colors as possible allows you to obtain a high quality rendering on all your cards.