Smart/Proximity Cards
Maintaining compatibility at low cost to optimize your prox solutions…
RFID Technology Products
RFID (Radio Frequency Identification) uses electromagnetic fields to transmit data between an emitter and a receiver. This technology offers automatic identification and tracking of objects, people or entities by making use of radio frequency waves.
RFID Credentials contain chips attached to one or several antennas to transmit and receive information that is dependent on each application.  RFID credentials can be passive, active (battery-powered) or semi-active (for applications such as data logging).
RFID technology is available in a variety of devices:
PVC Plastic Cards
Composite Plastic Cards
Clamshell Cards
Key Fobs
Decals & Tags
Wristbands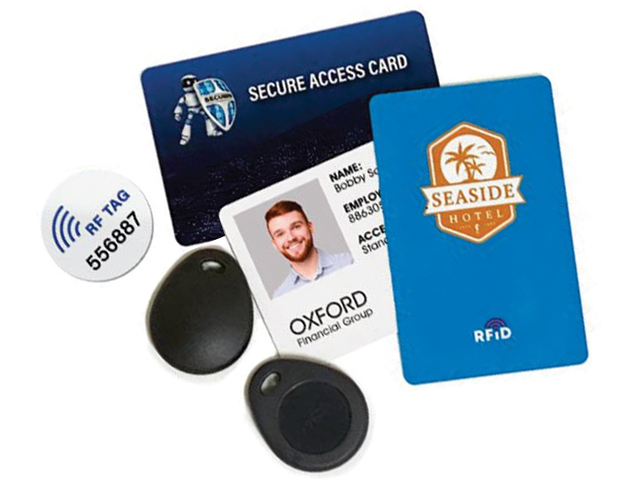 LF – Low Frequency
Uses: Access Control
Chip Types: HID/Allegion Schlage Compatible, Atmel 5577 (CR80/30) and Read-Only chips
HF – High Frequency
Uses: Access Control, Increased Security, Transit, Closed loop payments…
Chip Types: NXP MIFARE Classic 1K, MIFARE Classic 4K, MIFARE DESFire EV1/EV2/EV3 and others
Contact & Dual Interface
Uses: Logical Access (Digital Signature, Encryption…), Driver's Licenses, Access Control, Payments…
Chip Types: Memory chips such as SLE5542, SLE4442, SLE5528… and PKI-based chips (from NXP and Infineon)
UHF – Ultra Hight Frequency
Uses: Amusement Parks, Toll Roads, Long Distance read range
Chip Types: Alien H3>, Impinj (R6P, Q4T), NXP UCODE
NFC – Near Field Frequency
Uses: Access Control, Consumer Electronics, Healthcare, Loyalty, Payments, Transport, Inventory Control
Chip Types: NXP NTAG & ICODE Family of chips

D24 Clamshell Prox Cards
Introducing the D24 Clamshell Prox Cards
These traditional cards provide increased durability with lower pricing making them the optimal solution when you require proximity technology in a cost-effective card option that's designed to last and withstand in circumstances that would otherwise compromise other flexible proximity product alternatives. Ideal for many existing applications including re-issuance and replacement where price is a key preference feature.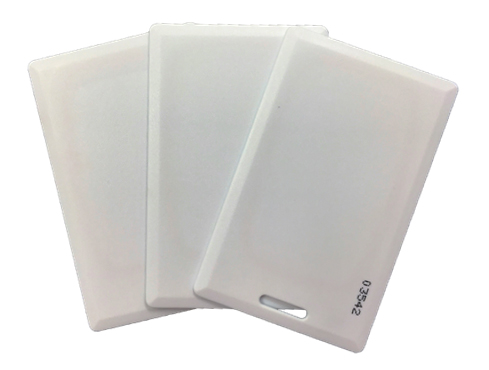 D24 PVC Miniature Prox Discs
Introducing the Adhesive Back PVC Miniature Prox Disc
These provide the ideal prox product option where size & functionality are important. A peelable adhesive back, makes these nickel sized discs extremely beneficial with the ability to be adhered to a wide range of surfaces, making any item prox compatible. Ideal for everything from re-badging to a broad spectrum of issuance applications for members, students, staff, or guests. They enable security with the convenience of smaller size.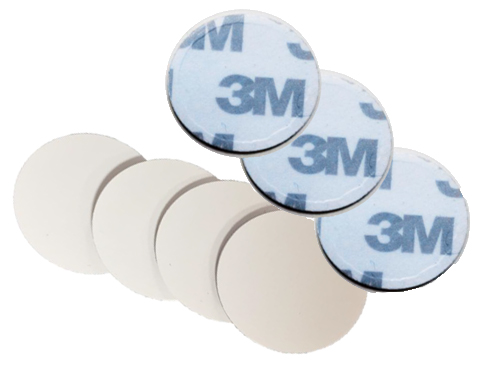 D24 PVC Prox Cards
Introducing the D24 PVC Prox Cards
Introducing our standard PVC Prox cards. These are the ideal solution for customers looking for a high quality yet cost-effective Prox card. With a flexible structure, these cards are perfect when running large custom print orders through a card printer, especially when printing full color card surface images. Multifunctional and practical, we provide these cards standard in solid white back and front, as well as with the Hi-Co Magnetic stripe back. Custom color and specification options available upon request.
D24 Breakaway Keytag
Introducing the Breakaway Card + Prox Keytag in 1 Printable Card
We are excited to announce the expansion of our available assortment of product options with the addition of the dual 2 in 1, membership/id card + breakaway keytag. Now available in either LF or HF Prox technology. With the convenience of a wallet sized card + secure RFID technology prox tag that allows for easy portability on key chains. This product option has proven highly successful in everything from membership/customer loyalty issuance to facilities that make use of secure access control systems.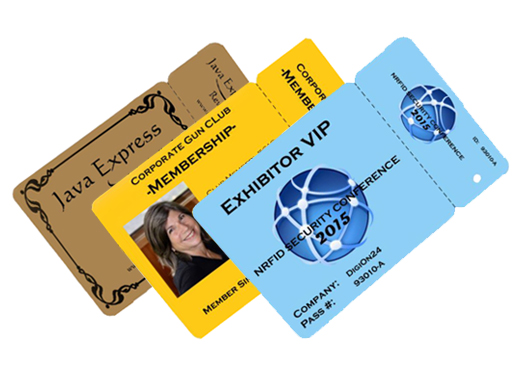 D24 Prox Key Fobs
Introducing our Prox Key Fobs in Blue or Gray
These provide the ideal prox product option featuring compact dimensions, durability, & optimal functionality factor. With the advantage of size and the key chain feature, your customers are able to issue prox security with the convenience of portability. Ideal for multiple applications including everything from membership, students, staff, or guests, they enable retention of security and provide access control that your customers can easily carry with them wherever they go.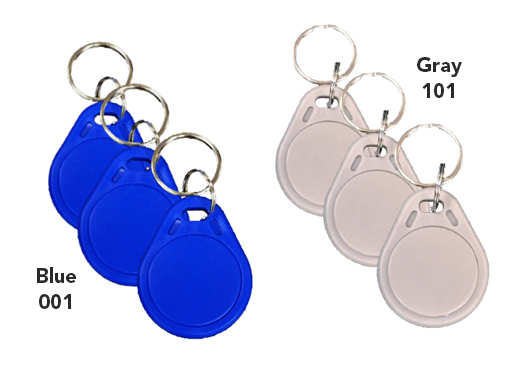 D24 Executive Prox Keytags
Introducing the Executive 301 & Executive 401 Keytags
We are excited to announce the addition of the Executive D24 Keytags. With a chrome metal finish, these keytags provide an enhanced corporate look and feel to fulfilling Prox security needs. Complete with the same RFID technology, this prox tag also allows for easy portability and convenience on key chains. Available in either a oval black with metal finish (Executive 301) or equivalent rectangular design (Executive 401), these prove an optimal solution where style, functionality, and security matter.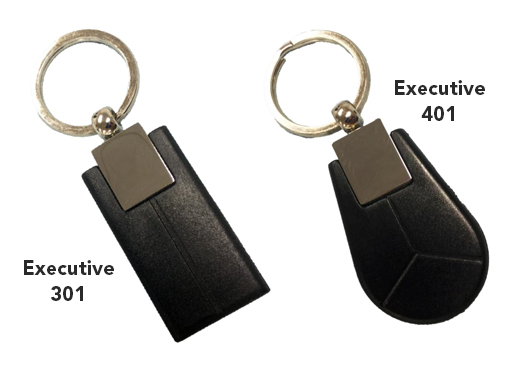 D24 Dual Mifare + Prox Smartcard
Introducing the D24 Dual Mifare + Prox Technology Cards
This solution combines both NXP Mifare and Prox technologies, all in one card, allowing operation of both 125 kHz and 13.56 MHz RFID frequencies. Multifunctional, as well as providing expanded application potential, secure your physical access control and logical access identification capabilities, it is the ideal migration solution from prox to NFC technology. Combining the two different RFID frequencies gives you use of the best of both technologies, including compatibility with previously existing systems, large user memory, high-security features, and advantages in terms of privacy, all within a high quality composite card.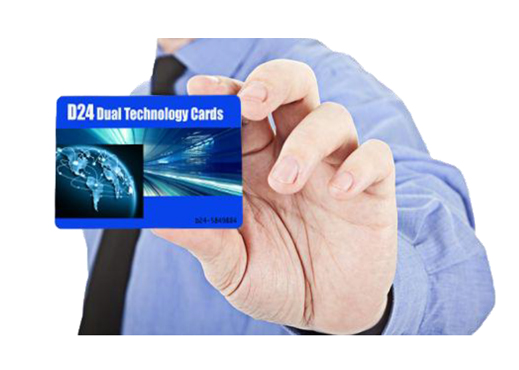 D24 Composite Prox Cards
Introducing the D24 Composite Cards
Reliability with the strength of a highly durable 60/40 PVC/PET composition makes these the ideal card solution when sleek card design and composition matter. These cards are made to withstand the test of time while still allowing for a practical card application that's multifunctional, flexible, and fits in your wallet. Whether temperature, exposure, or increased wear and tear, this card not only is a great substitution for traditional clamshell cards but also withstands in circumstances that would more readily potentially compromise alternative PVC card options. When quality and security matter, composite cards provide the optimal card choice.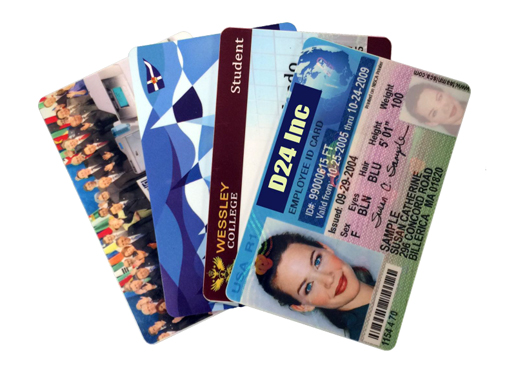 Have questions? We can help…
Please fill out the contact form or call the number below. Our experienced plastic card professionals will be happy to assist you.