SIGNATURE PADS FOR SIMPLICITY AND SECURITY
Sig100 and Sig200 signature pads are ideal for:
Government and Administration: identity documents, registration forms
Businesses: contracts, personnel management and visitor management
Financial Services: opening accounts, taking out loans
Retail: payment confirmation, customer loyalty programs
Health: admission documents, medical records
Tourism and Leisure: registration, checking in and checking out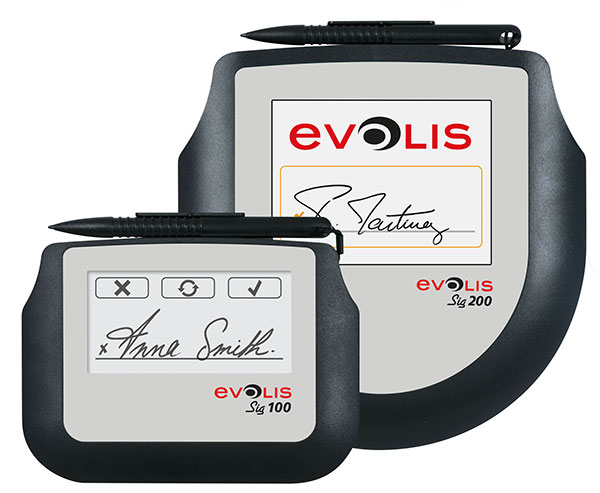 PRECISION AND SECURITY
Sig100 and Sig 200 signature pads digitize the signatures in high resolution and can also be used to record biometric data, such as writing speed and pressure, for forensic expertise. Secure data transfer between the pads and computers is ensured using AES (Advanced Encryption Standard) encryption.
NATURAL SIGNING
Sig100 and Sig200 signature pads have a large surface with a unique finish for natural signing sensation. The signature is displayed in real time on the pad which is backlit to provide maximum visibility in any lighting.
DOCUMENTS AND ADVERTISING
Evolis signature pads can display text and images. The user can see the document that is being signed on the Sig200 pad. Thanks to its slide show function, you can also display full color advertisements.
EASY TO USE
Evolis signature pads are compact and slim and are ideal for use in all working conditions, in particular when you are travelling. Sig100 and Sig200 signature pads are connected directly to a computer via a USB cable which also supplies the power. No external power supply is required. The signature pads are truly plug and play.
EASE OF INTEGRATION
Evolis signature pads can be easily integrated into existing IT systems and applications using the APIs and the free SDK.
LONG-TERM INVESTMENT
The Sig100 and Sig200 signature pads are robust, the greatest attention having been paid to the materials from which they are made. Their surface is scratch-resistant for maximum life-time and the 2-year warranty makes them a long-term investment.
Sig100 & Sig200
Super slim design and smooth surface for natural signing experience
Data acquisition: 500 Hz and 1040 dpi for high precision
Plug and Play USB connection
Encrypted data transfer
Standard stylus for simple replacement
Strong stylus tether with swivel for ease of use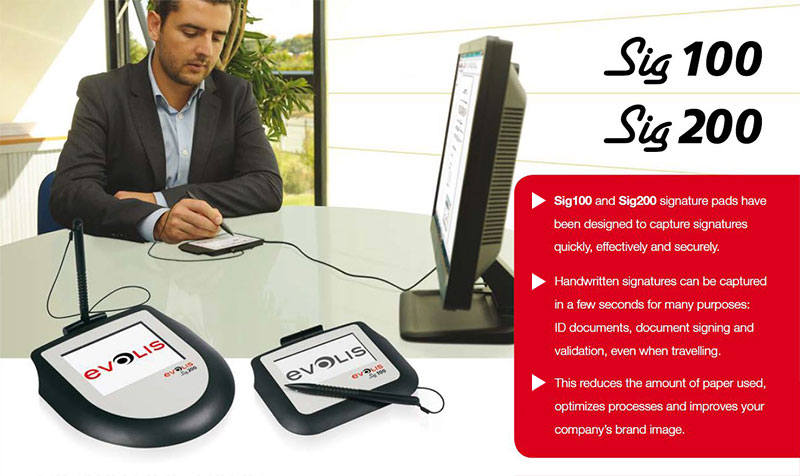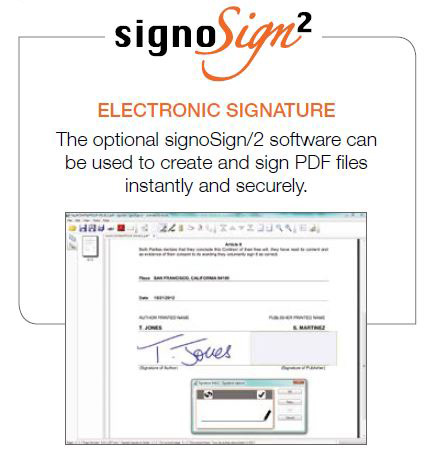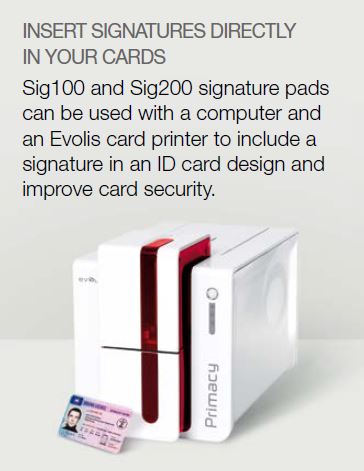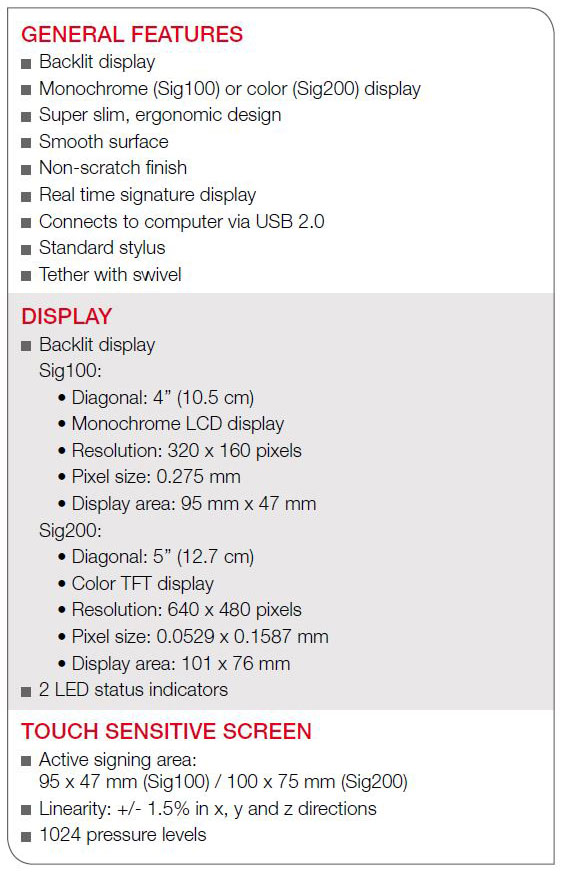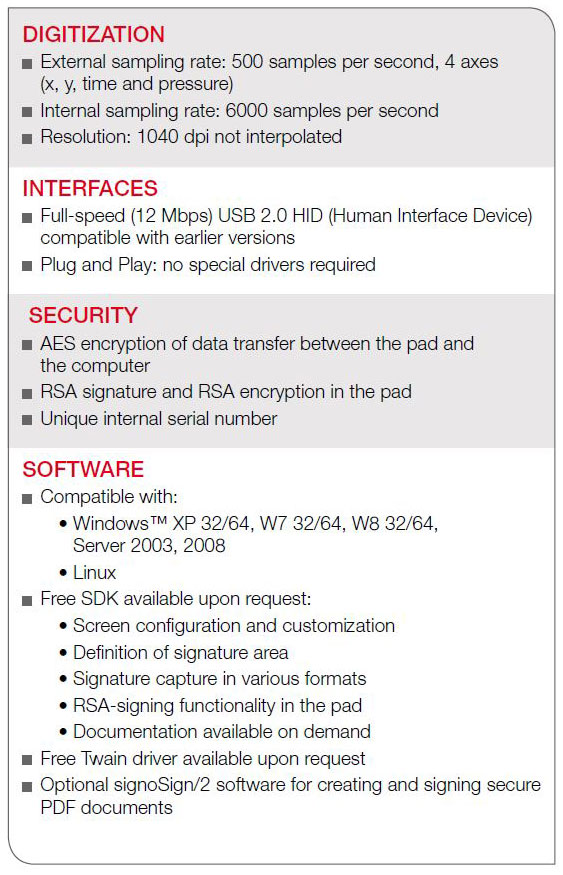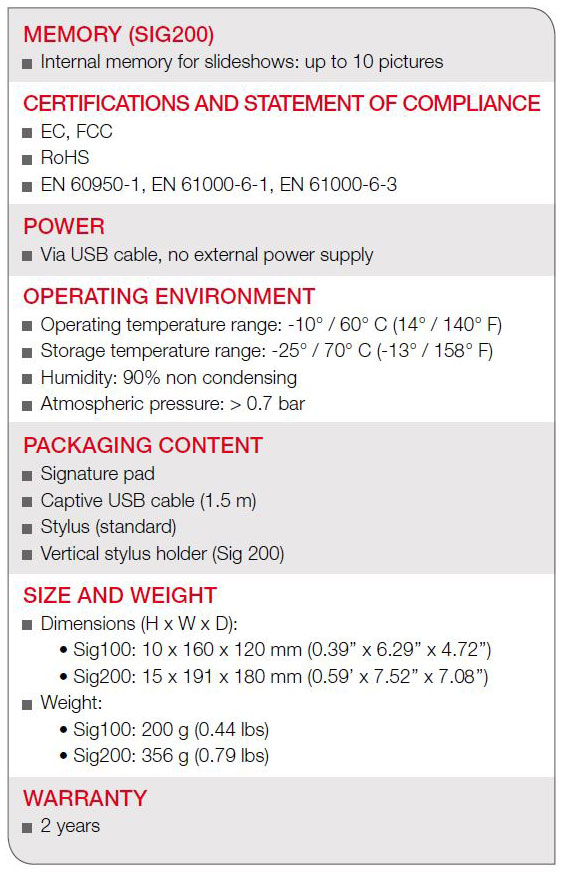 Have questions? We can help…
Please fill out the contact form or call the number below. Our experienced professionals will be happy to assist you.